Complimented Beautifully by Gemstones, Beads and Classic Sterling Silver
Sandalwood!
Just the word conjures up images of tropical beeches with trees swaying in balmy warm breezes, natives in exotic Eastern costumes and jewellery, and finely carved traditional ornaments and caskets. It is the woody, sweet and distinctive smell of Sandalwood whose essential oils are used in incense, perfume, cosmetics and aftershave that produces this effect and transports us to romantic oriental places. This oil is also easily blended with other aromatic oils, which makes it such a versatile part of the perfumer's array of scents.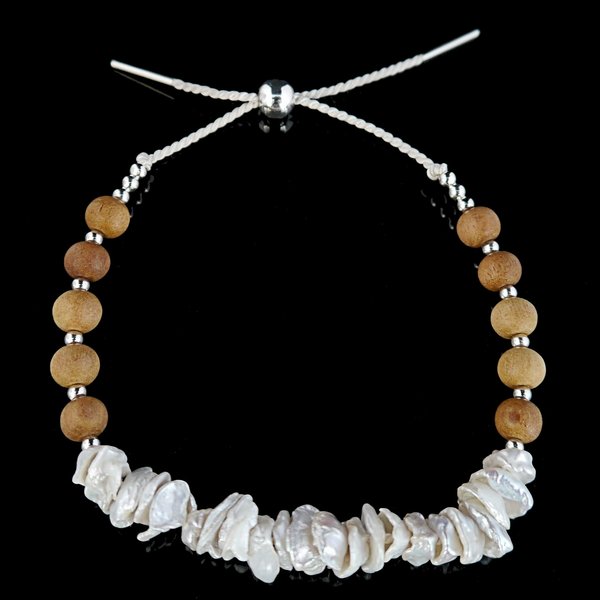 Sandalwood grows throughout southeast Asia and on the islands of the Pacific Ocean. The most common of the ten species, and the most commercially valuable, is Santalum album. The Sandalwood tree grows to a height of about ten to fifteen metres after thirty years and reaches full maturity in fifty or sixty years. It is actually partially parasitic on the roots of other plants, such as bamboo. When young the wood is white and becomes yellow and orange with maturity.
The sandalwood oil is contained in both the tree and its roots, and is obtained using a steam distillation process. The trees are never felled but are uprooted during the rainy season when they contain more of the precious aromatic oil.
As well as its cosmetic and perfumery uses, Sandalwood oil has been used since ancient times for a number of medicinal purposes, from treating dry skin conditions to helping relieve stomach troubles. It also has amazing calming, mind enhancing properties, hence its favoured use in incense to help in meditation. Powdered Sandalwood is used in the paste applied to make Brahman caste marks.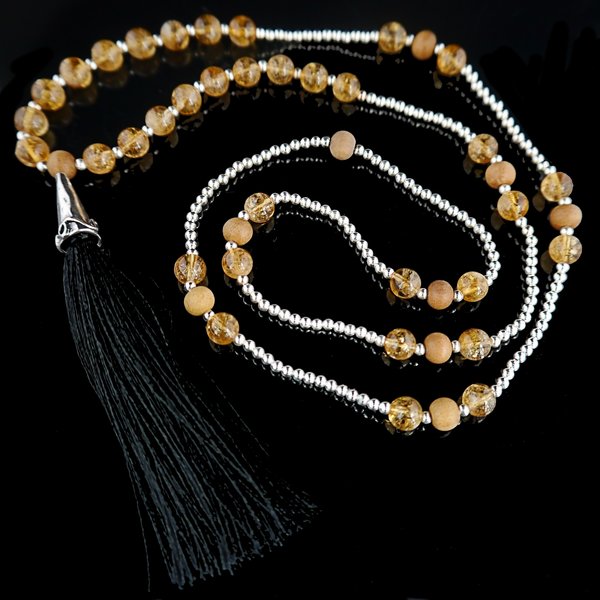 Sandalwood has been carved by craftsmen for centuries, made into containers or ornaments, and into beads which are incorporated into religious jewellery such as the Mala, a chain of 108 beads used in eastern religions to keep count of mantras, or prayers, as they are offered up to deities. The smell of the wood aids the meditative process of the ceremony. Sandalwood bead jewellery is also very popular when it is incorporated into designs as bangles, bracelets or necklaces, the soothing aroma released from the beads providing a counterbalance to today's pressures and pace of life.
Genuine Sandalwood comes only from Santalum album species, and it may be called East India Sandalwood or even white sandalwood. You may be offered other colours of Sandalwood, such as Red or Green, which may carry similar smells but are not genuine and truly from the Sandalwood tree.
The Bijoux Magpie has carefully sourced the beads used in our Friendship Bracelets and Necklaces to ensure their authenticity and that they originate from renewable sources.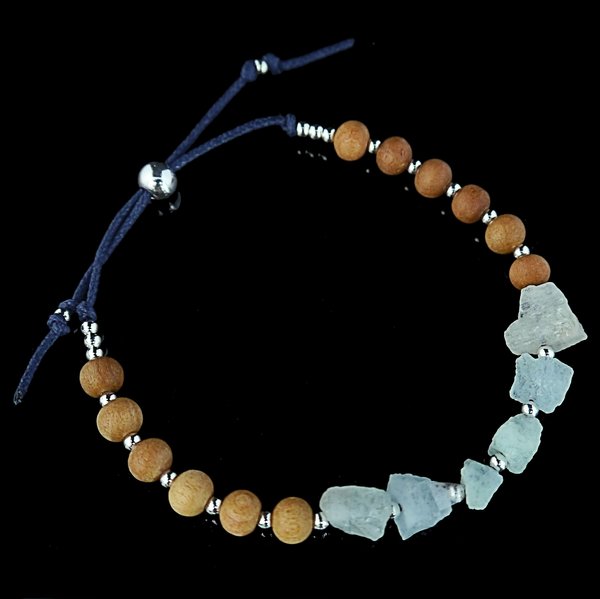 Our collection of Sandalwood jewellery can be found at The Bijoux Magpie including our gorgeous Citrine and Aromatic Sandalwood Tassel Necklace, Sasha and stunning Keshi Pearl and Aromatic Sandalwood Slider Bracelet, Riya.
Our Gift Wrapping Service is all part of your buying experience at The Bijoux Magpie and you can choose our complimentary service or our luxury service for a small extra cost.
All our jewellery is available with Free Standard Delivery on all UK orders.
Enjoy!
Catherine.