'Green design' is the new trend, and what better way to bring in the green than decorating with plants. Plants produce a natural and refreshing vibe in our homes. Designers are always coming up with new and easier ways to raise plants indoors so, below, we will look at some of our favourite stylish yet straightforward ways that you can decorate with plants.
Understated Beauty
Modern interiors are usually very simple in aesthetic. They feature simple designs in neutral colours, which can seem a little boring without some contrast. Plants are an excellent way to break the monotony of this style. You can choose your favourite garden plant and use it as a feature piece. It could be displayed in a large, eye-catching planter and used as a focal point. Make sure that your plant is big enough to attract a lot of attention to add a bright pop of green to the understated modern interior.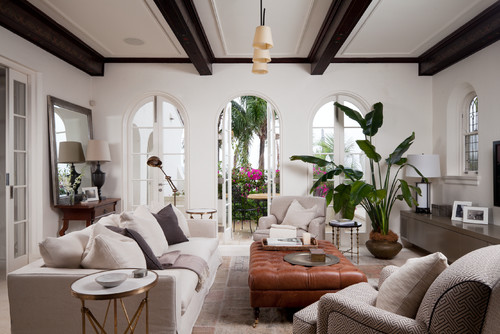 Exotic & Tropical
For those who want to break tradition and bring a sunny vibe indoors, creating a tropical haven in your home would be a great option. You can achieve this by selecting a plethora of tropical style indoor plants. Indoor palm plants such as Kentia Palm, Butterfly Palm and Lady Palms would be the ideal choice, but they do need a lot of caretaking and upkeep. Bromeliads are also a pretty good choice as they can be easily grown in small pots while giving off a high-tropical aura in your home.
Living Walls
Vertical gardens are a great way of decorating with plants both inside and out. They add a beautiful modern visual quality to the walls. Professionally known as a Hydroponic Wall, these indoor vertical gardens require regular upkeep. However, the way they spruce up your space is undeniably brilliant. You could even install a vertical herb garden in your kitchen.
The Window Glasshouse
If you're a fan of easy and conventional decor, then this style is definitely for you. Just imagine having a small, portable garden of your own right at your window sill. You can decorate your space with small plants that are easy to maintain and could be kept lively even in a high-rise apartment. You can add or subtract when the time or your mood calls for it. Windowsill gardens are trending a lot, especially because inhabitants love the refreshing vibe they bring into their homes.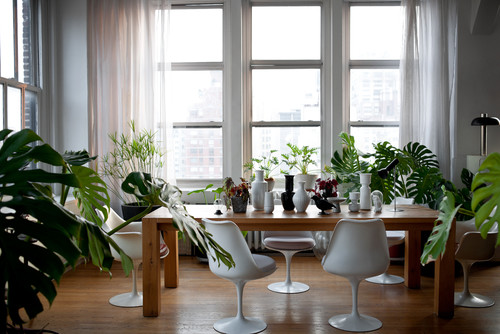 Garden in a bottle
This latest trend in decorating with plants is all about creating beautiful dry arrangements in glass globes. You can then create artful arrangements by hanging these globes inside your homes. They're an excellent idea for decorating with plants; especially for those who don't have a particularly green thumb.
Best indoor plant recommendations
It's a well-known fact that plants have a positive effect on health. They're the perfect way to jazz up your healthy lifestyle and home. Here are some recommendations for indoor plants that will have a positive effect on your surroundings and day-to-day life:
Dracaena: It comes in a great variety and removes pollutants.
Ficus: It is low-maintenance and has air-purifying qualities.
Peace Lily: This plant can grow in shady areas and produces fragrant flowers.
Aloe-Vera: It is easy to care for and has many health uses.
Boston Fern: It removes air-pollutants and grows easily.
We hope this helps you decorate with plants easily, and get the best possible results for your home.