Luxury and Simplicity | Solid Silver Triple Russian Bangles and Rings
Here at The Bijoux Magpie we love the wonderful meanings behind our Triple Russian Bangles and Rings and hope you enjoy reading about the significance of this gorgeous jewellery.
The Trinity Ring is a popular design for contemporary jewellery, with rings and bangles being common forms. It is strongly associated with Russian marriage ceremonies and "Russian Rings" is a term often used for the concept, symbolising the pledge of fidelity and love for eternity.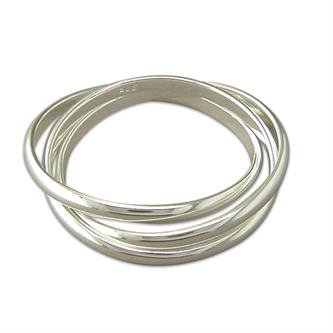 However, the triple rings pattern has origins that date back beyond the familiar Celtic symbolism when it was known as a "triquetra", from the Latin for three cornered, or Celtic knot. Found throughout Celtic culture, the Triple Ring was associated with mother goddesses, symbolising the meeting of earth, ocean and sky and was developed in Ireland around the seventh century. The Norman invasion saw a decline in Celtic artwork in general and it was not until the mid-nineteenth century and the so-called "Celtic Revival" that more instances of Celtic knotwork were once more reproduced and regularly used.
The central belief in Christianity is the triumvirate nature of God, the Holy Trinity of God the Father, His son Jesus Christ and the Holy Spirit. Occasionally the Trinity Knot may be enclosed within a circle in order to emphasise unity or eternity.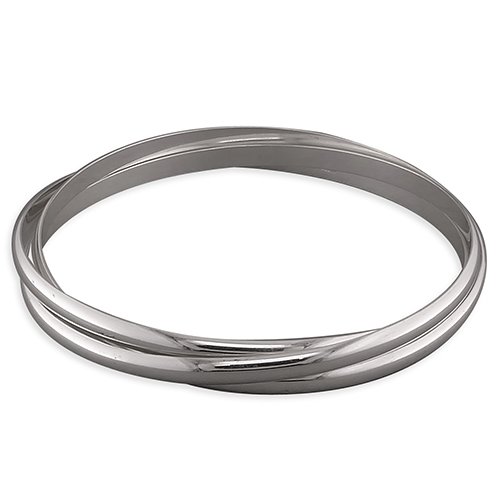 Traditional Russian wedding jewellery includes a plain gold ring and a Russian Triple Ring. Selecting a triple ring can have special meaning for a couple celebrating their marriage within the Russian culture and its rich heritage. The wedding ring is usually worn on the right-hand ring finger, as in many Orthodox Christian and Catholic countries, after the priest has placed it on the right hand to follow the betrothal service based on biblical passages.
In 1924 Louis Cartier created one of the most famous modern interpretations of the Triple Ring when he designed a piece composed of three bands of gold using pink, yellow and white metal. These colours symbolise the unity of love, fidelity and friendship and may differ from the original traditional rings but still carry the values of everlasting love.
With such a long and rich tradition of diverse meanings and uses, it is little wonder that the Triple Ring form of jewellery has been assigned a multitude of new contemporary uses and significances.
It may be used to celebrate ancient Celtic and Irish culture, to represent the hope for eternal love or to convey a desire for longevity by representing an uninterrupted life cycle. It may also be used to define the stages of a woman's life: youth, motherhood and old age.
In short, whether in the form of a finger ring or a wrist bangle, the Triple Ring is a versatile gift representing an individual but instantly recognisable pledge from one to another.
Our collection of solid sterling silver bangles can be found at The Bijoux Magpie including our truly indulgent Triple Russian Bangle, Anastasia and our Russian Wedding Band, Annushka.
Our Gift Wrapping Service is all part of your buying experience at The Bijoux Magpie and you can choose our complimentary service or our luxury service at a small extra cost.
All our jewellery is available with Free Standard Delivery on all UK orders.
Enjoy!
Catherine.