It's time for the cheery Easter season. So, shower your home with gorgeous spring flowers, vibrant colours, whimsical decor and let your playful side out.
An Elegant take on Easter
If you are not a fan of an overly festive approach to Easter, why not embrace a more sophisticated and traditional Easter style? Highlight the season with elegant table accessories mixed in with some fun Easter themed decorations then add some candleholders to create a cosy family atmosphere at dinner. Round up the look by bringing some lovely spring flowers indoors.
Easter Stickers
No, stickers aren't just for the kids… Be festive and fun this Easter season and add some removable wall accent stickers. It's the easiest way to celebrate the holiday in your home without having to factor in any permanent decorations – shine the spirit of Easter throughout your house with some inexpensive creative Easter magic.
A Taste of Spring
Celebrate the holiday by decorating your dinner table with a Spring theme rather than going all out on Easter decorations. Chose a crisp white table cloth and use an array of Spring flowers to perfectly create a dreamy, fresh Easter atmosphere.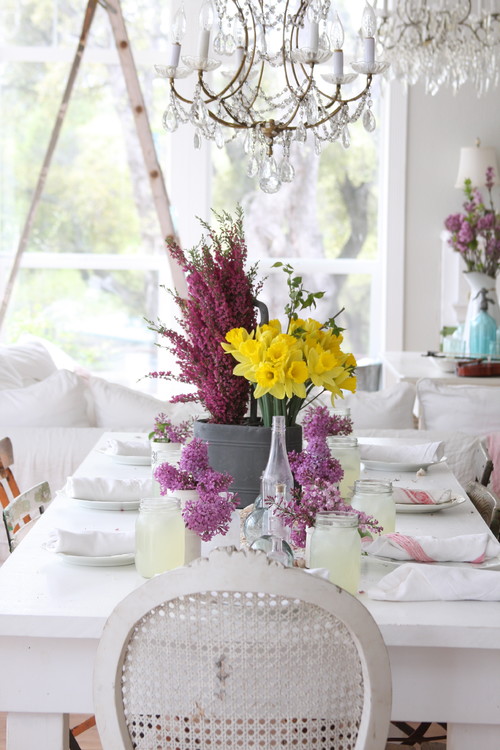 Beautiful Bunnies
Have some fun with bunny-themed décor. Create a display on your sideboard or coffee table with a mix of different Easter themed accessories and combine them with fresh flowers for a beautiful yet fun springtime presentation for your guests.
Spring Sunshine
It's time to bring some sunshine indoors and plant some Sunflowers. Get the kids involved in planting them inside some lovely terracotta pots next to the window. Once they are ready you can cut them down and add them to large vases to keep the spring season alive in your home.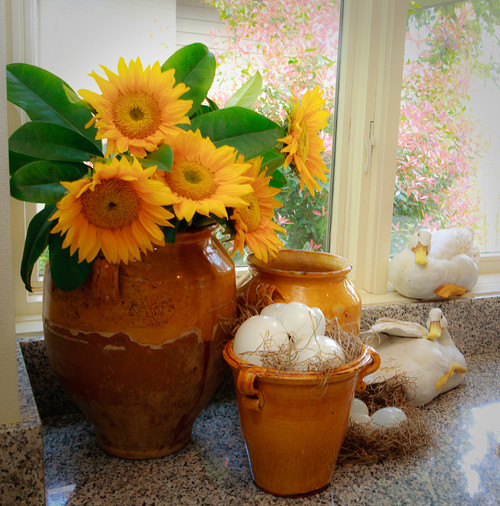 Subtle Easter Decor
If you want to create something a little more subtle why not decorate with neutral coloured eggs by placing them in straw nests or simply blending them in with your other accessories.
A Vibrant Easter
Easter is a joyful celebration so inject your home with its vibrant colours when you invite family and friends around to celebrate. Use bold fabrics to decorate your table keeping the table looking sharp with plain crockery, then pair this up with ceramic Flowers pots full of gorgeous spring flowers. Lastly, add a subtle Easter Egg theme to the table with golden Easter egg nests. This style is perfect if you want to make an Easter impact and without having to invest in lots of decorations.
An Excuse to Redecorate
If you are looking to redecorate why not use Easter as an excuse to get it done? Spring is usually the best time to clear out the clutter and make space for some fresh sunshine vibes. You can look at the season for inspiration or you could choose something beautifully toned down. Check out our blog post '2017 Year Round Colour Inspiration' for some inspiration – 2017 is packed with vibrant, fresh and earthy colours that are perfect to kick-start the spring season. If you are not in the running to redecorate then have some fun with your current décor by adding fun Easter features like these eggs hanging on branches in this lovely cosy corner.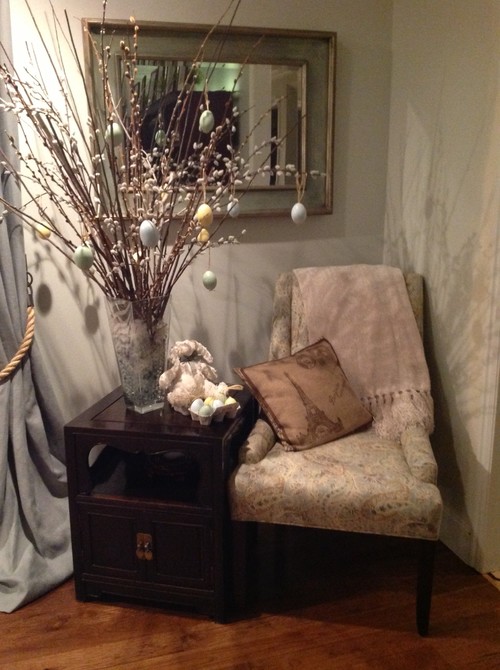 An Easter to Remember
Channel the playful and colourful spirit of the season and go big on your Easter decorations. Make your home fun and inviting, for all ages. This is where you can let Pinterest DIY projects and recipes run wild. Let this season be one that everyone will always remember.