Turquoise is unmistakably the colour of Summer as it reminds us of clear blue skies and the azure tranquil seas of faraway shores.
Turquoise is also one of the six stones for those born under the Zodiac Sign of Taurus.
Often given as a token of friendship, Turquoise is also said to provide calm and protection to its wearer.
Most of all, Turquoise looks stunning! Its a colour that catches the eye and makes any outfit look instantly Summery.
All The Bijoux Magpie's beautiful Turquoise gemstone jewellery designs are not only unique and one of a kind, but they are guaranteed to have been made only using genuine turquoise. Genuine turquoise is currently subject to the laws of supply and demand, and suffering from the attention of less scrupulous dealers eager to pass off man-made creations as the much more highly prized and expensive genuine gemstone.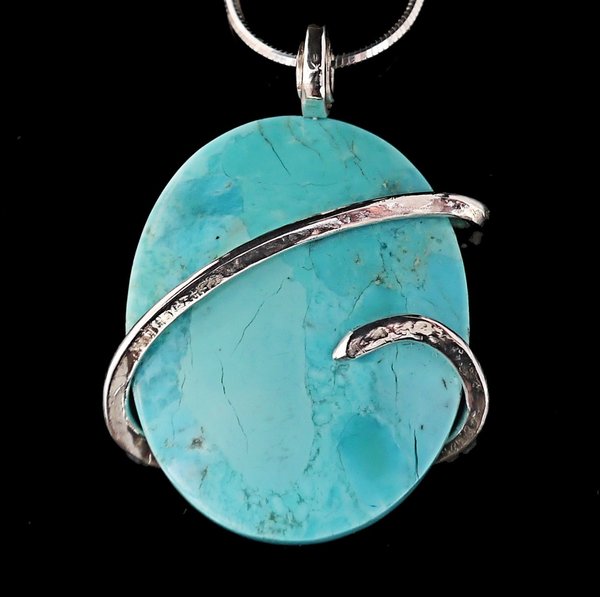 Illegal, unregulated and environmentally unsound mines in China have been closed down, and supplies from traditional mines such as that from the Kingman Mine in the USA are dwindling; the result is an escalation in the price of genuine turquoise, and of the supply of manufactured turquoise which the untrained eye will find difficult to identify.
Natural turquoise was formed over thousands of years as water containing minerals such as copper and aluminium seeped through rocks and were compressed into veins. Turquoise can be found in a range of greens and blues and the expert eye can identify the mine from which individual stones were sourced. It is one of the softest and most porous gemstones and will discolour over time as it absorbs chemicals from cosmetics or perspiration.
Untreated turquoise is the most highly prized and expensive form of the stone. Stabilised turquoise has been impregnated with a polymer or some other form of binding agent to make it more durable and able to be cut and fashioned into cabochons or beads. It is the most common form of turquoise available, and regarded as "natural".
As turquoise is naturally porous, readily accepting dyes; dyed turquoise's colour is modified to make it more marketable, or to create an artificial and outrageous colour. However, dyed turquoise is always less valuable than untreated material of a similar colour and quality.
Because of the cost, quantity and quality of the remaining reserves of turquoise, composite or reconstituted turquoise has been developed. Small pieces of turquoise are mixed with a polymer and cast into block shaped pieces, hence the name "block turquoise" may also be applied. Finely crushed turquoise from inferior grades of natural stone are included with non-turquoise materials and the blocks created sawn into pieces used to cut cabochons or beads. Some gem identification labs refer to this as "man-made product", refusing to call it turquoise at all. However, the true reconstituted nature of turquoise jewellery is often only revealed in the small print at the foot of descriptions and care must be taken when buying because the price is often not a true reflection of the quality or origin of the gem stone.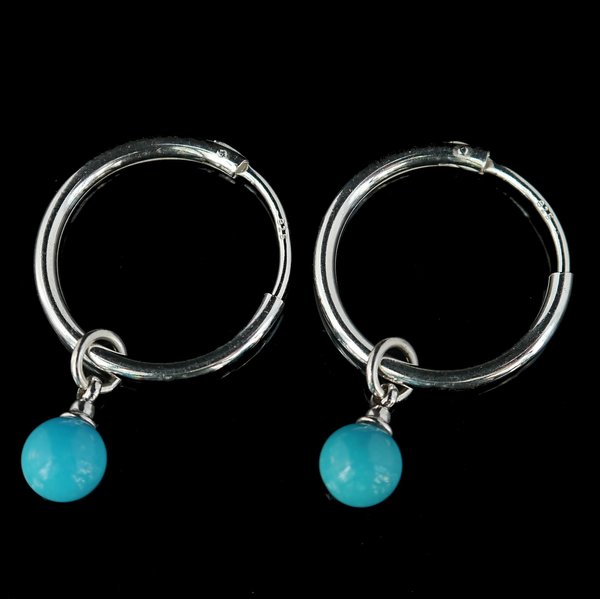 An additional trap for the unwary Turquoise buyer is dyed Howlite, a white stone that may resemble Turquoise with black webbing and veins. It also readily accepts chemicals and dyes and so is easily coloured to resemble Turquoise. It has been estimated that 90% of the commercially available Turquoise is, in fact, Howlite.
If the price seems too good to be true, then it almost certainly is!
Free Standard Delivery on all UK Orders
All your jewellery is beautifully presented and available with our complimentary full gift wrapping service Each presentation box is carefully hand wrapped in simple, contemporary white Kraft paper and finished with a sumptuous black, pink or red satin ribbon and a gift card with an envelope.
You can choose this option on the product page together with an option to add a personalised handwritten message to the gift card.
Enjoy! x