Put on your elf hat and be inspired to spread the holiday spirit throughout your home with our top creative tips.
Choose a concept:
There might be a lot of themes you want to incorporate in your Christmas decorations, but it is so much easier having a specific concept that you can work around rather than buying lots of different things that don't match. Choose a colour scheme or one decoration that you want to use an inspiration or choose an area in your home and work with a bright colour that already works with your home décor. Remember when choosing a colour scheme, it doesn't have to be traditional Christmas colours such as green and red – This purple inspired room is a great example.
Pops of colour:
Be bold and make your home as colourful and vivacious as the season's spirit. A pop of colour to accentuate your neutral palette is just what you need. Choose happy colours that stand out – Perfect for a happy Christmas.
Fabrics for Christmas:
Accentuate the Christmas spirit through fabrics. For example, your curtains are really flexible, they are easy to take down and put back up so that you can adapt your room to any concept in an instant. So, why not give your curtains a break and put up something a little more festive – You don't need to do for over the top Santa, elf and holly patterned fabric, you can just pull through one colour that you will be using in your temporary Christmas décor and even create some matching chair covers and napkins to match.
This also gives you the opportunity to get your usual curtains cleaned and ready to put back up after the holidays are over, ready for a fresh new year.
Be Extra Extravagant:
Christmas is a festivity of joy and love, so let your dinner table be as exuberant as the season calls for and bring some extra joy to your guests faces. This table is perfectly styled with the seasonal colours of green and red yet is it isn't over the top as the season sometimes demands. It is stylish and the variety of table decorations make it really eye catching. Unite your table accessories with white candles and small details like these red beads to emphasise the centre piece. Perfect for the best Christmas dinner yet.
Happy Christmas:
This is the season to be jolly and have some fun so why not add some wit to your décor?
Bring out your charm with quirky decorations like this note to Santa. It will make children and adults alike smile and spread the holiday cheer throughout your home.
Cosy up for the holidays:
You can be stylishly festive in your home and create a cosy and warm ambiance at the same time. The combination of earthen colours and pinches of tropical hues exude a relaxed atmosphere. The sparkles that the lights create are equally mesmerizing. Ramp up the glamour with touches of gold accessories.
A wreath for every window:
A Christmas wreath doesn't necessarily have to be hung on your front door. They look beautiful hung in windows or you can even use them to replace a piece of wall art just for the holiday season. Look for a wreath that will match your interior décor if you plan to hang it indoors so that it matches the rest of your home and doesn't feel too temporary.
If you can't find a wreath to match why not buy a plain evergreen wreath and head to the haberdashery to pick out some ribbons and strings of beads that will match a bold colour from your pillows or furniture and create something really unique.
Candyland:
Christmas treats are a huge part of the experience so indulge your guests sweet tooth with a display of Christmas treats. Add them to clear glasses for a mouth-watering effect leaving anyone craving more, especially the kids.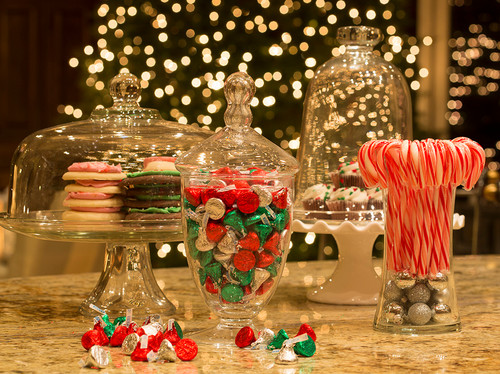 Christmas tree overload:
What is better than having a single Christmas tree? Lots of miniature Christmas trees, of course.
This is another brilliant way to decorate your dining table. Mix it out with decorative candlesticks, tea lights and colours baubles. You can never have too much glitter and sparkle for the holidays.
Inspiration for the Mirror Mania Collection: