Art Deco style flourished in the 1920s and is one of the most interesting and exciting styles as it is a unique blend of different design styles. It may be a contradiction of materials and styles used but their unison creates a balance of both fundamental elegance and room functionality. Here are our favourite Art Deco rooms to inspire you to create an Art Deco paradise in your own home.
1. Art Deco Elements
A white bathroom is never boring when paired with the standout design elements. Using Art Deco features is the perfect way to exude elegance and glamour in a bathroom without going to heavy with colour. Achieve this in your own bathroom by going neutral but having a focal point that shouts 'Art Deco' to your guests. This art deco fan mirror paired with highly polished bathroom features and decorative art deco tiling.
See the collection of Babushka Mirrors right here.
2. Everything Art Deco
Art Deco is about being bold. This home theatre leaves quite an impression and a massive appreciation for historical architecture and design. After the discovery of King Tut's tomb in 1922, Art Deco was geometrically influenced by Egyptian motifs which is reflected on the walls of this stunning room. To create your own spin on this in your own home, you could work some subtle Egyptian art works into the walls or even have a bespoke mirror made just for your home.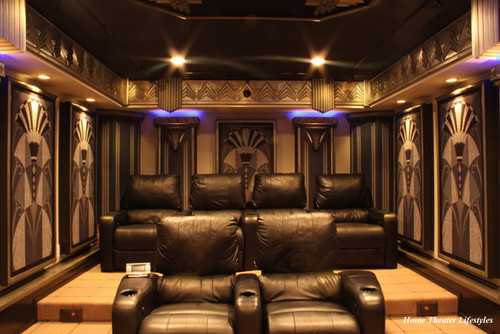 3. Bright and Modern
As Art Deco is a combination of not only different design styles, but also a combination of different materials. Highly reflective accessories, exotic wood and animal skin, metal and glass all creates drama and a 1920's feel to this living room. The sophisticated mirror and painting of historical architecture on the other wall brings a vintage feel and classic charm to this Art Deco inspired room.
Try this look with a simple wall light or art deco table lamp, statement furniture and add some decorative trinkets to create a treasure trove of delights for your eyes.
4. Black and White Art Deco
This black and white space is the perfect picturesque luxurious modern Art Deco room. The use of chrome fixtures and polished materials against the bold patterns truly represents the glitz and glam look of the era.
You could easily create this this look in your own living room or bedroom. Don't be afraid to put different styles in one area of the room together – For example, the Louis XVI inspired chair in this room complements the contemporary Chinese inspired divider through colour and floral designs. The geometric and rhythmic patterns of the pillows and the rug really pull the room's clean lines and furniture together.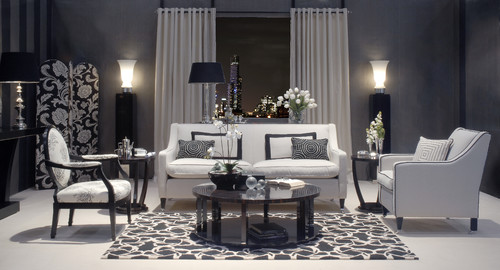 5. Cosy Art Deco Bedroom
Bring a warm and cosy feel to your bedroom through Art Deco, just like this beautiful 1920's inspired black and gold haven.
The neutral shade on the walls and the pillows, black velvet headboard and black borders of the sheets bring out the classic and grandeur element of the black details on the wall art. The chandelier casts a very flattering sultry glow that perfectly creates a cosy atmosphere. This is ideal for any bedroom especially if you are looking for a subtle Art Deco room but doesn't leave out drama and elegance. Add some beautifully crafted mirrored furniture to perfectly contrast the cotton silk sheets a create spaciousness.
6. Elegant Dining
Are you looking an eye-catching dining area that doesn't look too over the top even once it has been decorated ready for your guests to arrive? Then an Art Deco style dining area is the perfect choice for you. This room is all about stylish touches of the 1920s glam in a more contemporary setting.
You and your guests will be immediately drawn with the symmetrical set-up highlighted by lavish and sleek mirrors, table lamps and accessories. With a dining room like this, you will always be eating and entertaining in style.